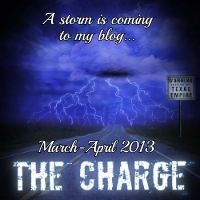 Sharon Bayliss has two wonderful items to share with us today! The first is a quiz centering on her new release The Charge.
The second being a query critique! Isn't Sharon awesome? All you have to do to enter is to leave a comment! What side are you on in the Charge?
Blurb:
When King of the Texas Empire kidnaps Warren's brother, Warren embarks into a still Wild West to save him. On his journey, he makes a discovery that changes his life forever—he and his brother are long-lost members of the Texas royal family and the King wants them both dead.
He gets help from an activist Texan named Lena, who's itching to take on the King and happens to be a beautiful firecracker Warren can't stay away from. Convincing her he's not one of the bad guys becomes harder when a mysterious energy stirs in his body, turning his brain into a hive of emotions and memories—not all his own.
A legacy of violence is not all he inherited from the brutal Kings of Texas. The myth that the royal family possesses supernatural powers may not be myth at all.
Gone are the days when choosing a major was a big deal. Now Warren must save his brother and choose whether or not to be King, follow a King, or die before he can retire his fake ID.
Or the Goodreads "Add this" widget:
Giveaway: The giveaway is open from 3/1-3/31. Please feel free to include with your post!
About Sharon
Bio
: Sharon Bayliss is a native of Austin, Texas and works her day job in the field of social work. When she's not writing, she enjoys living in her "happily-ever-after" with her husband and two young sons. She can be found eating Tex-Mex on patios, wearing flip-flops, and playing in the mud (which she calls gardening). You can connect with Sharon at
www.facebook.com/authorsharonbayliss
and
www.sharonbayliss.com
.